TODAY IS DECEMBER 8th, 2014
Yesterday was the 'TOYS for TOTS' motorcycle parade, Sunday, December 7th. I am planning to try to raise some money for a 2016 campaign for the U.S. House at this event.  After my last campaign in 2012, a good number of fellow motorcyclists told me they would have helped if they were aware of my campaign.    So, if I am going to run, I have to raise serious money to conduct a proper campaign. Yesterday, I asked my fellow motorcyclists to step up to the plate and give me a hand.  Let's look at the bigger picture, if every motorcyclists in the State of Illinois mailed me $2.00, I would have enough money to run a great campaign.  If every member of the American Motorcyclists Association, a group where I have been a member for 45 years, mailed me $5.00, I would have the serious money to defeat the current Congressman in the 5th and I would go to Washington, DC and fight for the rights of this community to be left alone, to block a federal helmet law and to continue to shine a positive light on motorcycling.

If you are here now, you may have read the flyer that was handed out at the 2014 'Toys for Tots' parade. I am setting up a link for you to contribute to this campaign and I am listing the mailing address if you only want to send a check.

To send a check for the 'Dan Schmitt for Congress' campaign use this address:

Dan Schmitt for Congress,   P.O. Box  30066, Chicago, IL  60630-0066

If you want to set up a meeting or invite Dan Schmitt to speak at your next motorcycle club meeting, your business group, your church or your neighborhood organization (it does not have to be in the 5th Congressional)  feel free to call:  773-725-2115.

For the motorcycle community and those who participated in the 2014 'Toys for Tots' parade click on the link to go to the special donation page for a few special items with your donation.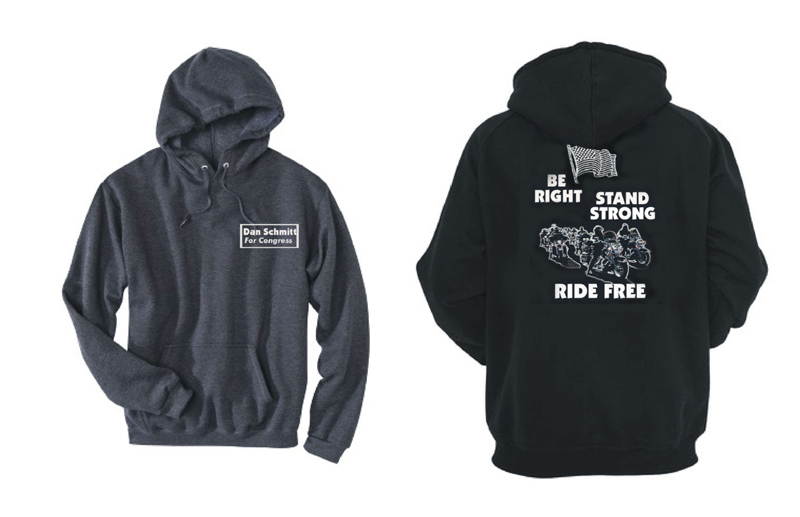 For a Donation of $100.00, receive a black sweatshirt (American-made) any size and very heavy duty. Please include the size and a good mailing address.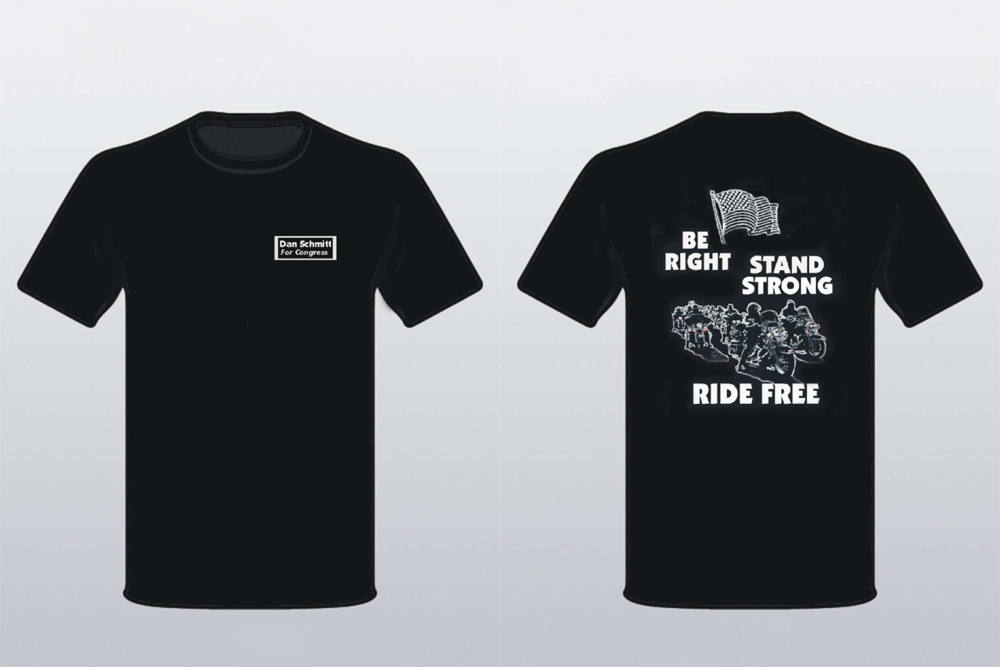 For a Donation of $50.00, receive a American-made black T-shirt, any size and the highest quality. Please include the size and a good mailing address.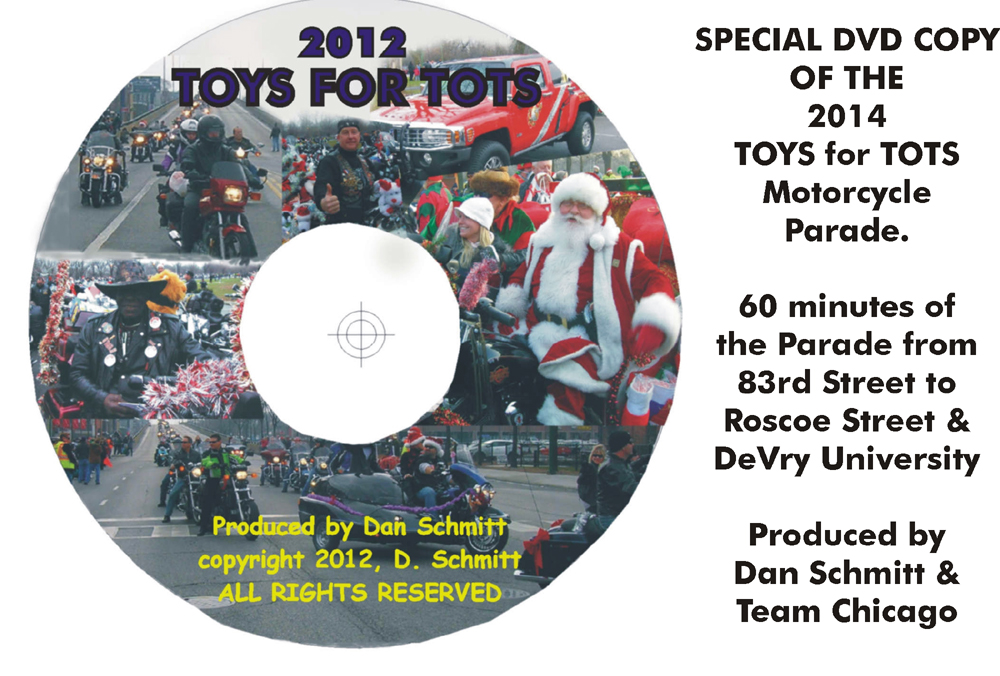 For a Donation of $25.00, receive a SPECIAL DVD COPY of the 2014 'Toys for Tots' Motorcycle Parade. Please include a good mailing address.

COME BACK IN A DAY OR TWO AND YOU WILL BE ABLE TO DONATE AND ORDER ANY OF THESE SPECIAL PRODUCTS WITH EITHER YOUR CREDIT OR DEBIT CARD.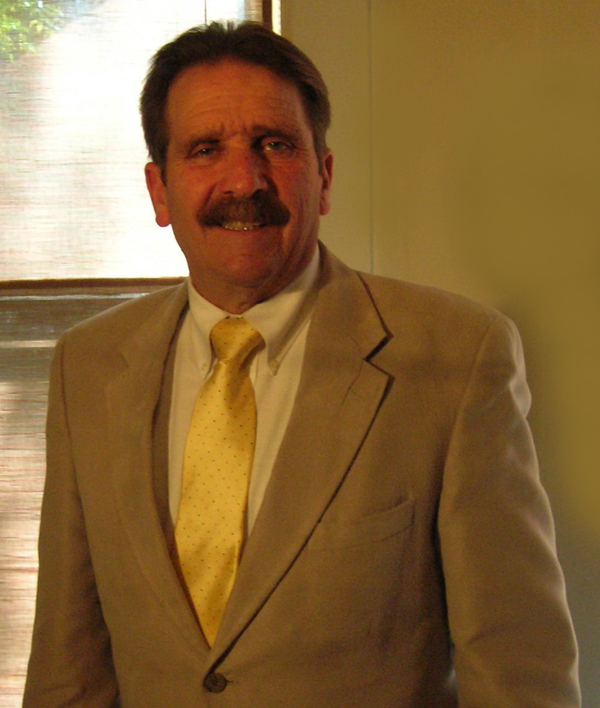 2014 CAMPAIGN, THE COMMON QUESTION IS THIS, HOW CAN I HELP?
YOU CAN DONATE MONEY TO THE CAMPAIGN.
WE HAVE A CALL CENTER AVAILABLE, YOU CAN JOIN US TO MAKE TELEPHONE CALLS TO YOUR NEIGHBORS IN THE 5th.
e-mail here:teamdan45@gmail.com
YOU CAN ASK FOR A YARD SIGN AND PUT IT IN YOUR FRONT YARD.
YOU CAN RING THE DOORBELLS OF YOUR IMMEDIATE NEIGHBORS AND TELL THEM ABOUT DAN SCHMITT FOR CONGRESS.
YOU CAN TALK TO THE PARENTS OF YOUR CHILDREN'S FRIENDS AND TELL THEM HOW DAN SCHMITT WILL GO TO WASHINGTON TO FIGHT FOR THEIR FUTURE, TO CUT THE FEDERAL SPENDING.
YOU CAN MAKE A DIFFERENCE!
The 2012 brochure, not much on ObamaCare, but this is it. What does it say?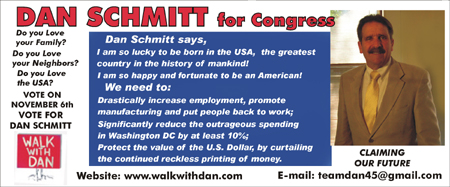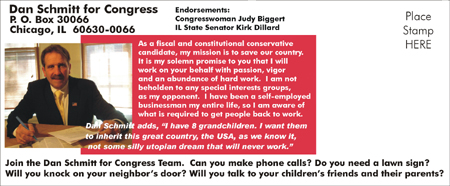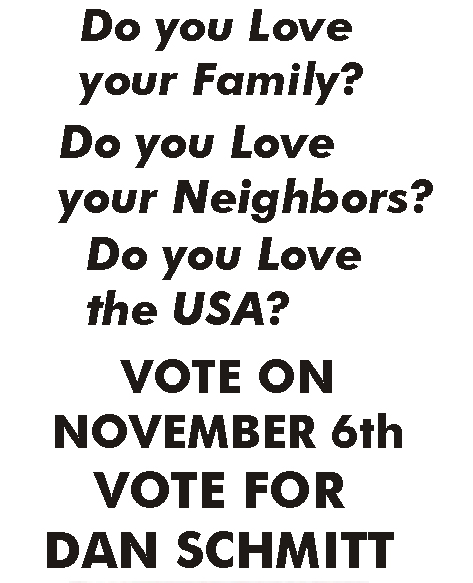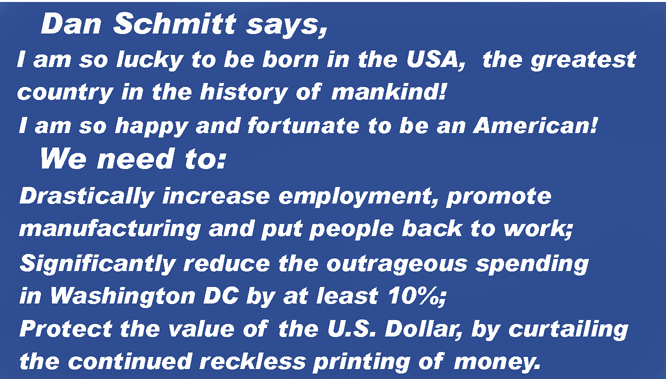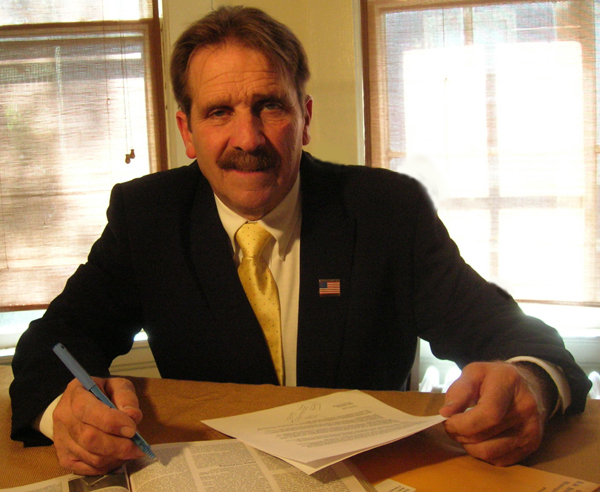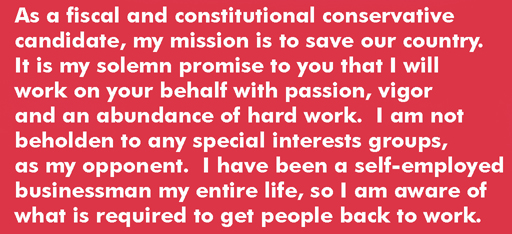 Dan adds, " I have 8 grandchildren. I want them to inherit this great country, the USA, as we know it, not some silly utopian dream that will never work."
Join the Dan Schmitt for Congress Team. Can you make phone calls? Do you need a lawn sign? Will you knock on your neighbor's door? Will you talk to your children's friends and their parents?
JUST WHAT IS LIBERTY?
Dan Schmitt's Video Clips on LIBERTY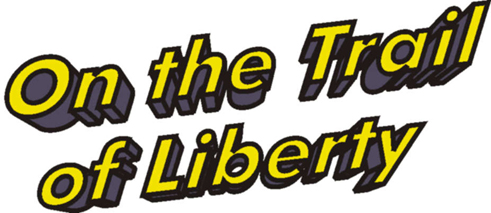 JUST WHAT DOES DAN SCHMITT BELIEVE? HOW DOES HE LOOK AT OUR GREAT COUNTRY? Join Dan Schmitt as he explains the foundation of the United States.
What is the truth of the Boston Tea Party and just what is the modern Tea Party?
What does Liberty really mean?
How much power should the Federal Government have?
PLEASE WATCH THESE VIDEO CLIPS!
Click on LIBERTY below.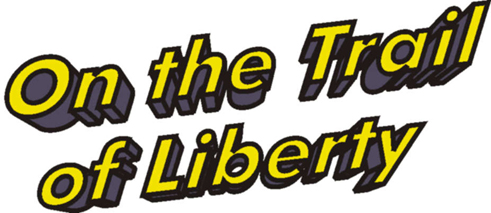 ON JULY 4th, 2012, Lori Yokoyama and Diane Shapiro joined Dan Schmitt to read the Declaration of Independence. When was the last time you read this very important document? Please, join this threesome as they read the Declaration of Independence on Chicago's lakefront, part of the 5th Congressional District in Illinois.
click on below: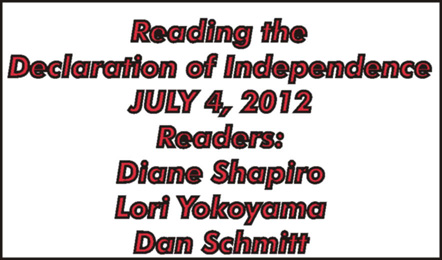 DO YOU LIVE IN THE 5th CONGRESSIONAL DISTRICT?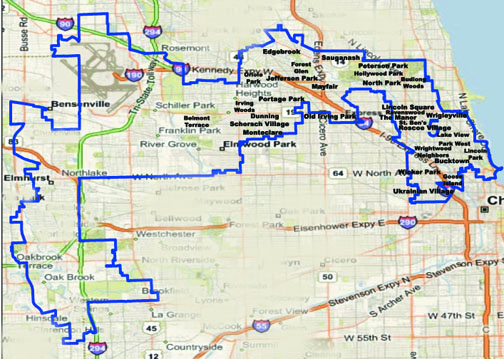 CLICK HERE FOR MORE DETAILED MAPS
CLICK HERE FOR LIST OF VILLAGES, CITIES & NEIGHBORHOODS
DAN SCHMITT ON YOU TUBE.

Please click below to see Dan's first message:
This is the link: http://www.youtube.com/ watch?v=wTJ_Sf5AQII
Here is a good number of questionnaires that I have received over the last few months. I believe my answers will allow you, the visitors to this website, to understand my campaign. We have serious problems in the good old USA, and I want to go to Washington D.C. to meet the challenge of this 21st Century.
Click on each group to see the questions and answers.
Illinois Center Right Coalition
Questionnaire from WTTW, Public Television for Chicagoland
Questionnaire from the Daily Herald
Survey from the ILLINOIS FAMILY INSTITUTE
Questionnaire from the Chicago Tribune
ABATE of ILLINOIS Questionnaire
My name is Dan Schmitt and I am interested in being your next Congressman. There are new boundaries for the 5th Congressional District and I know every neighborhood that makes up this new district. I have lived in this District for my entire life. For the last thirty-seven years I have lived in Mayfair, across the street from the Irish-American Heritage Center. I have been self-employed my entire working life and I have two grown children and eight grandchildren.
The current Congressman and my potential opponent in the 2014 election is way out there in left field. Quite frankly, he is out of touch with the voters of the new 5th District. President Obama has also lost touch with the American public. He is dragging America in the wrong direction. Yes, we need to clean up the waste in government and cut the out-of-control spending. We don't need to increase taxes
I want to go to Washington to restore honor, balance the budget and free-up the American Spirit. We are a great people, we love and respect our neighbors, we have fed the world many times over and we will continue to set the standard for a good and prosperous life. America is GREAT because the American people are GREAT!
I want to hear from you.
Dan's E-mail address:
Do you want to contribute to this campaign?
Please click here to go to Donation page
One of my favorite quotes from President Reagan:
October 27, 1964 -- from "The Speech"
"You and I have a rendezvous with destiny. We will preserve for our children this, the last best hope of man on earth, or we will sentence them to take the first step into a thousand years of darkness. If we fail, at least let our children and our children's children say of us we justified our brief moment here. We did all that could be done."